Alumni
Welcome to the alumni portal!
We are always interested in hearing from our many accomplished alumni. We have made available for you, at this site, our recent Alumni newsletters (Fall 2022 Newsletter now available!) and encourage you to catch up on the exciting developments in our dynamic department.
3ND ANNUAL ALUMNI OPEN HOUSE - FRIDAY, OCTOBER 21, 2022!
If you think you might attend an open house on Friday, October 21, please email Pete Pokrandt (poker@aos.wisc.edu) so we know how many we might expect. Thanks!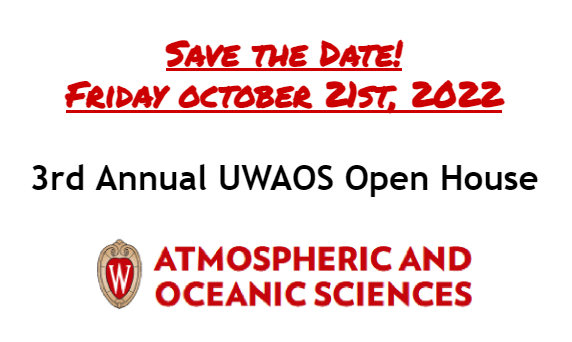 Welcome new Alumni Engagement Board Members!
Please welcome Andrew Quigley (B.S. 2020, M.S. 2021), Charles Koch (B.S. 2007), Zach Handlos (B.S. 2010, M.S. 2013, Ph.D. 2016), Ron Sznaider (B.S. 1981) and Mike Breunling (M.S. 1996) to the Board! Thanks all for stepping up to help serve in this critical connection between our current students and staff and our amazing alumni base! Photos and bios will be coming.
And to those rolling off the Board, thank you for your service to the board and to our students over the past several years!
2021 UW-AOS Alumni Award for Oustanding Achievement announced
William L. Smith Sr. is the recipient of the 2021 UW-AOS Award for Outstanding Achievement
Updated 2022 Alumni reception info!
We were planning an in-person reception at the AMS Annual meeting, but since it has gone entirely virtual because of COVID-19, instead we will be hosting a virtual reception, similar to what we did last year.
Please join us for an update from the Department Chair, the presentation of the Alumni Award for Outstanding Achievement, an update from the Alumni Engagement Board, and to catch up with fellow alumni!
The virtual reception will take place in Zoom from 7:00-9:00 PM CST on Tuesday, January 25, 2022. You do NOT need to be registered for the AMS Annual meeting to attend the AOS Alumni Reception, but please register here to let us know you're coming. In an attempt to prevent zoom bombing, we'll email out the zoom link to the event to all who registered as the event gets closer).
Thanks for attending the 2021 AOS Alumni reception!
The AMS Annual Meeting was virtual in 2021, and so was our annual alumni reception. The reception took place in a zoom meeting from 7-9 PM CST on Wednesday, January 13, 2021.
Over 100 alumni attended the event and everyone had a good time, in spite of us not being able to get together in person.
Network@Home initiative
Are you willing to speak with our recent Graduates?

With COVID-19 impacting countless industries, our graduating seniors at the University of Wisconsin-Madison are entering the workforce at a stressful and challenging time. We are curently seeking professionals and alumni to help connect, support, and advise students through remote conversations*.

If you are interested, please fill out this questionnaire and email it to: elschueffner@wisc.edu You will be contacted via email with next steps.
*You do not need to be a UW Alumni to participate.
2nd annual Alumni Open House - Friday, October 11!
The Alumni Engagement Board, in association with the AOS Department held the 2nd annual Alumni Open House at the AOSS Building on Friday, October 11th, 2019 (the Friday of Homecoming week.) Details are here in this PDF file. This was a great opportunity to see what's going on at your Alma Mater, and to have a chance to interact with our current students and fauclty. And don't forget your #AOSSRooftopSelfie with Pete! We'd love to have you!!

We plan to hold the 3rd annual Alumni Open House again on the Friday of Homecoming weekend - Friday October 30, 2020.
Introducing the Alumni Engagement Board
Alumni Engagement Board Career series
Dan Hartung's November webinar Notes (2Mb)
Holly Hassenzahl's talk from February 28th, 2018
Alex Kubicek's talk from March 14th, 2018
Becky Schultz's talk from September 20th, 2018
Laura Betker's talk from October 18th, 2018
Kurt Brueske's talk from November 29th, 2018
Chris Smallcomb's talk from March 28th, 2019
Kaitlyn Krzyzaniaks's talk from March 4th, 2020
Kris Craven's talk from March 25th, 2020
Alan Robock's talk from February 8th, 2021
Skylar Williams' talk from March 1st, 2021