June Monthly Student Highlight- Anthony Crespo
June 28, 2019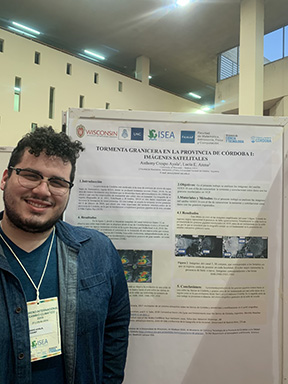 While awards and appointments attract much of the news attention, the Atmospheric and Oceanic Sciences department has a large variety of work going on behind the scenes. As part of a new Monthly Highlights series, the AOS news page will be featuring different faculty and student projects once a month. These highlights will be showcasing published papers, community outreach events, field campaigns, Q&As on climate change and weather phenomenon, and other topics as they come up.
The Pampas region, stretching from the Andes Mountain foothills in Argentina to the coats of Brazil and Uruguay, is known for having some of the strongest thunderstorms in the world. As part of a field campaign for the Remote sensing of Electrification, Lightning And Mesoscale/microscale Processes with Adaptive Ground Observations (RELAMPAGO) project, Anthony went to Argentina this past fall, working as both a scientist and a translator. Researchers are aiming to use the data gathered to improve severe storm predictions, both in this region and worldwide.
More information about the RELAMPAGO project can be found here.
This interview has been slightly edited for clarity.
What is the overarching goal of the RELAMPAGO project?
The main goal of RELAMPAGO is to characterize severe storms over the "Sierras de Cordoba". Around 2016, Argentina installed its first "Argentinian" meteorological radar (RMA1), which is the first radar that is part of a national system that contributes to the understanding of meteorological phenomenon. It was strategically installed in Cordoba for two main reasons: first, it was designed by a group of scientists that are part of the department of atmospheric physics, which is the group I'm part of working on my master's thesis at the moment; and secondly, Cordoba is located in the center of where all the severe weather phenomenon constantly develops. RELAMPAGO is the biggest field campaign outside of the US which also implements a field school to educate graduate students with different backgrounds in atmospheric sciences.
What makes this region especially unique when it comes to severe storms?
Well that's a tricky question, because the main reason for the field campaign is to answer why Argentina has the most intensive storms in the world. This includes intense rain in short periods of time (which is a huge problem that contributes to flooding events), a huge amount of tornados that happen constantly during severe weather season, the most intensive thunderstorms, and Argentina is one of the countries with some of the biggest hail in the world (measurements up to 17 cm). With my research, I'm trying to understand how we can validate satellite and radar images to reconstruct the crystalline structure of hail and its locations in a cloud. All the data analyzed in this research is aiming to improve the accuracy of cloud models and warning systems for regions that are impacted by hailstorms, providing different communities with tools to understand and be better prepared for these events.
What was your job while working in the field campaign?
I was part of the handful of graduate students picked to start a field school while also helping in every deployment in the campaign. We had different groups in RELAMPAGO: the hydrology group, stationary group (which helped people in the field find their way around while chasing storms), the hail group (which is the one I was part of), and other groups. As part of the hail team, I helped with the deployment of hail pads (to measure area and diameter of hail), storm chasing (trying to collect hailstone samples), and assisting in other groups while also working in a small project that it was required by the end of the trip. I had the opportunity to work on the subzero lab in the National University of Cordoba, where Dr. Lucia Arena taught me techniques of how to process hail (kind of teaching me before hand for future research). I also worked with Dr. Lucia's students on different community activities, going to schools to talk about the field campaign and about a program called "Cosecheros de Granizos". This program is awesome, and it was developed by Dr. Arena. Is a program under the governance of "Ciencia Ciudadana" or Citizens Science where the people also participate as scientists, reporting hail events, measuring and taking pictures of the hailstones (sending it to a smartphone app), and then communicating with the university so they can pick up the hail for further studies. It is part of a movement by the government to involve the community in hailstorm resilience programs, inform them well, and letting them participate in these types of investigations.
While in Argentina, you worked both as a scientist and as a translator. Were there any challenges in communication while you were there?
This question made me laugh a little bit, because I was so scared every time they asked me to translate. To be honest, I'm not a professional translator, and every time I was asked by RELAMPAGO scientists to translate interviews specially by local media and Argentinian government officials, it was hard because of the differences in the Spanish vocabulary and the speed that everyone talked to each other. Even though I was raised with both languages side by side in school, on tv, and even within my family, I have to admit that there were moments that there were terms that I needed a minute to think about it (naturally, because we were talking about atmospheric phenomenon). Even when I moved to the states and started my undergraduate degree in Syracuse University, it took me quite a while to adapt to get immersed in an English-speaking environment. However, being raised in an environment where my Spanish and English vocabulary grew hand by hand gave me an advantage on understanding both sides of the coin, giving me the tools to keep passing along the knowledge I've acquired throughout the years and turning on the spark of curiosity in young future scientists.
What was the most interesting discovery you made while in Argentina?
Most of the collected data is still being processed and downloaded to the campaign catalog. Still, there was one night that I was assisting on radiosondes for the night, and we had one of the technicians that worked for the NSF. We were looking at the data we were receiving, and we noticed this weird pattern in the data. It looked like a little kid drew all over the computer. We didn't know exactly what was happening, but between the technician and the other scientist we were assisting that night, we discussed all possible scenarios that balloon was going through the atmosphere, and it was simply exciting trying to decipher what the data was telling us. It was a very fulfilling, one of a kind types of experience that not only helped me grow in the atmospheric sciences but also helped me submerge in another Hispanic culture and expand my professional network that let me where I am today.
What is the next step of this project now that the field campaign has concluded?
Right know I'm in Argentina, trying to analyze hailstone samples from a storm that happened on February 8th, 2018. My main goal, like I mentioned before, is to study the internal crystalline structure of hail, and how we can use that information to improve cloud models and hailstorm warnings. I'm also working with GOES 16 satellite images and radar images from the RMA1 to correlate the data and have a more solid conclusion on what we are looking at. Right now, in less than a month and a half, I learned how to work with Python, re-projecting NETCDF files into a base map, to project them in QGIS, and have a better analysis. I just presented on two (local and international) conferences in Argentina and will keep working on my master's thesis before I go back to the states. Some of my findings are very interesting and are trying to explain how the geography of the "Sierras de Cordoba" affect not only the "normal" storm others have described in recent papers, but storms that you would normally not expect to produce the hail we've collected. It is a step deeper into looking at how much information we can get from a satellite just from zooming in closer into a specific areas and how accurate that information is.
If you have any suggestions for a Monthly Highlight, please send an email to studenthelp@aos.wisc.edu.