Ankur Desai Receives 2022 AGU Joanne Simpson Medal
October 5, 2022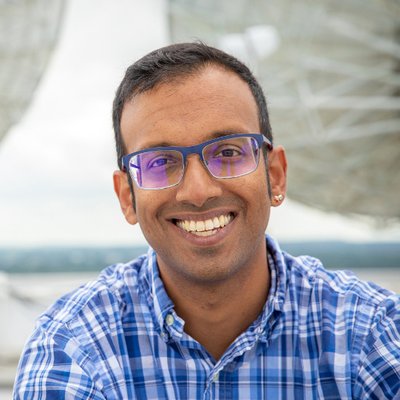 Congratulations to Ankur Desai, who received the 2022 AGU Joanne Simpson Medal for Mid-Career Scientists and will be conferred as an American Geophysical Union (AGU) fellow! This high honor has recognized Prof. Desai for his leadership and scientific advances in biogeosciences, atmospheric sciences, and global environmental change.
Desai has spent 15 years at Wisconsin, making significant scientific advances in his field. During his career, he has contributed to various field projects, one being the Principal Investigator of the recent CHEESEHEAD19 experiment. Desai has co-authored more than 150 papers in scholarly journals, is currently the Department Chair of AOS, an editor for AGU's Journal of Geophysical Research-Biogeosciences, and holds the Reid Bryson Professorship in Climate, People and Environment.
Desai joins other scientists, leaders, educators, journalists, and communicators from around the world who have made outstanding achievements and contributions by pushing forward the frontiers of science. Each recipient embodies the AGU's community's shared vision of a thriving, sustainable, and equitable future powered by discovery, innovation, and action. These recipients have worked with integrity, respect, and collaboration while creating deep engagement in education, diversity, and outreach.
"Nothing in our science to better understand the Earth system and climate is done by one individual or by any one discipline. This award reflects the privileges I had so that I could have landed here in company of amazing collaborators and colleagues who along with students and staff of the Ecometeorology lab that I mentor continually push me to generate and act on new ideas and build a supportive community." says Desai.
AGU will formally recognize this year's recipients during the AGU Fall Meeting, December 12-16 2022 in Chicago, IL and online everywhere. This celebration is a chance for AGU's community to recognize the outstanding work of our colleagues and be inspired by their accomplishments and stories.
To read more please visit: www.agu.org/Honor-and-Recognize/Honors/Union-Medals/Joanne-Simpson-Medal