William L. Smith Sr. receives UW-AOS Alumni Award for Outstanding Achievement
November 5, 2021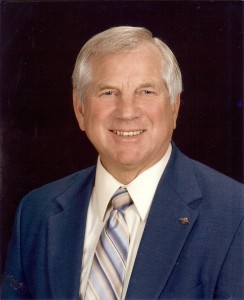 It gives us great pleasure to announce the recipient of this year's UW-AOS Alumni Award for Outstanding Achievement
William ("Bill") L. Smith Sr. received his M.S. (1964) and Ph.D. (1966) in the then-Meteorology Department at the University of Wisconsin-Madison. He made fundamental contributions to ground, aircraft, and satellite based infrared radiation measurements for infrared sounding the Earth's atmosphere.
Over the course of his subsequent career as professor in the Atmospheric and Oceanic Sciences department and scientist with the National Oceanic and Atmospheric Administration (NOAA), Dr. Smith has advised and mentored 56 graduate students and published nearly 200 papers in the peer-reviewed literature. He has also served as Director of the Atmospheric Sciences Division at NASA Langley Research Center.
Bill is a world leader in the development and use of hyperspectral radiance measurements from environmental (weather) satellites. This work provided the foundation for current spaceborne sensors, greatly improving global weather forecast skill.
In the mid-1970s, Dr. SMith was instrumental in establishing Cooperative Institute for Meteorological Satellite Studies (CIMSS), a remarkably productive partnership between NOAA and the academic research community at UW-Madison that continues to this day. You can read more about his work there at: https://www.ssec.wisc.edu/news/articles/8720
The award will be formally conferred at the AOS Alumni Reception to be held in conjunction with the American Meteorological Society Annual Meeting in Houston, TX on Tuesday, January 25, 2022.