A Legacy Recorded
February 20, 2023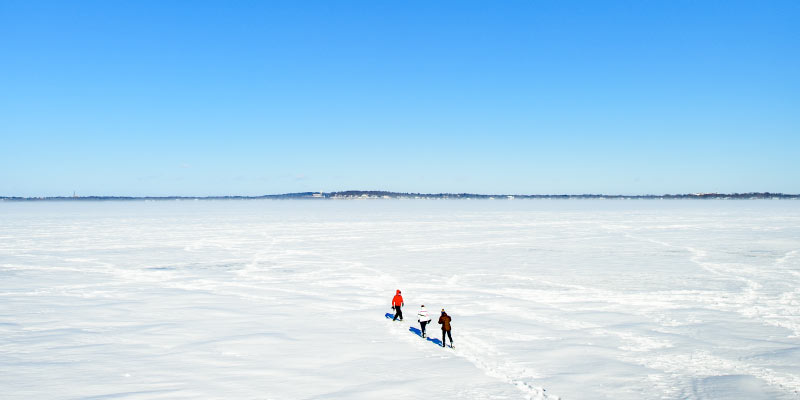 Photo: Bryce Richter/UW–Madison
"'Is Lake Mendoza frozen yet?' Believe it or not, that's a common wintertime question from alumni seeking reports from their alma mater (particularly alumni who have migrated to warmer climates). Thanks to the Wisconsin State Climatology Office, that data are easily found … and has been for the past 171 years. Dating back to 1852, you can see when the lake froze and when it opened. From 1855–1865, the average duration of ice cover was 119 days. For the past 10 years, it's been only 83 days. The efforts of the State Climatology Office don't just give us a look at how Lake Mendota has changed, but a larger picture of climate change in the state of Wisconsin.
A joint effort between the Department of Atmospheric and Oceanic Sciences and the Nelson Institute's Center for Climatic Research, the State Climatology Office's mission is to provide data-led analysis and evidence of climate change and share that information with Wisconsinites, from individuals to government agencies. The office also serves as the official records holder for the state's climate records.
The earliest version of the State Climatology Office dates back to the late 1800s. From 1870–90, volunteer observers in the U.S. Army Signal Service recorded weather observations across the state. With the creation of the U.S. Weather Bureau (USWB) in 1891 those duties transferred, and the state of Wisconsin started collecting and publishing data through the Wisconsin Section of the USWB. That first office ran out of Milwaukee until 1948 when the Wisconsin Section was parceled into regional centers, which is when Madison's location came into the picture. By 1956, nearly each state had its own state climatologist and staff under the USWB, which in 1970, was renamed to today's National Weather Service (NWS).
Budget constrictions led to the termination of the NWS's state climatologist program in 1974, but the state of Wisconsin continued to fund its position: partially from 1974–76, then fully — with joint appointments in UW–Madison's Department of Meteorology and UW–Extension — for the next couple of decades.
In the 1990s, Madison's State Climatology Office underwent a period of massive transition. The office — and the position of state climatologist – went from being fully funded to having no funds at all. But that didn't stop the work. For the past couple decades, the State Climatology Office — housed in the Atmospheric, Oceanic and Space Sciences Building — has had the duo of Young and Hopkins at its helm: John Young, who served as director from 2002–22, and Ed Hopkins, assistant state climatologist since 2003."
Read the full Nelson Institute story by Chelsea Rademacher, February 3, 2023